---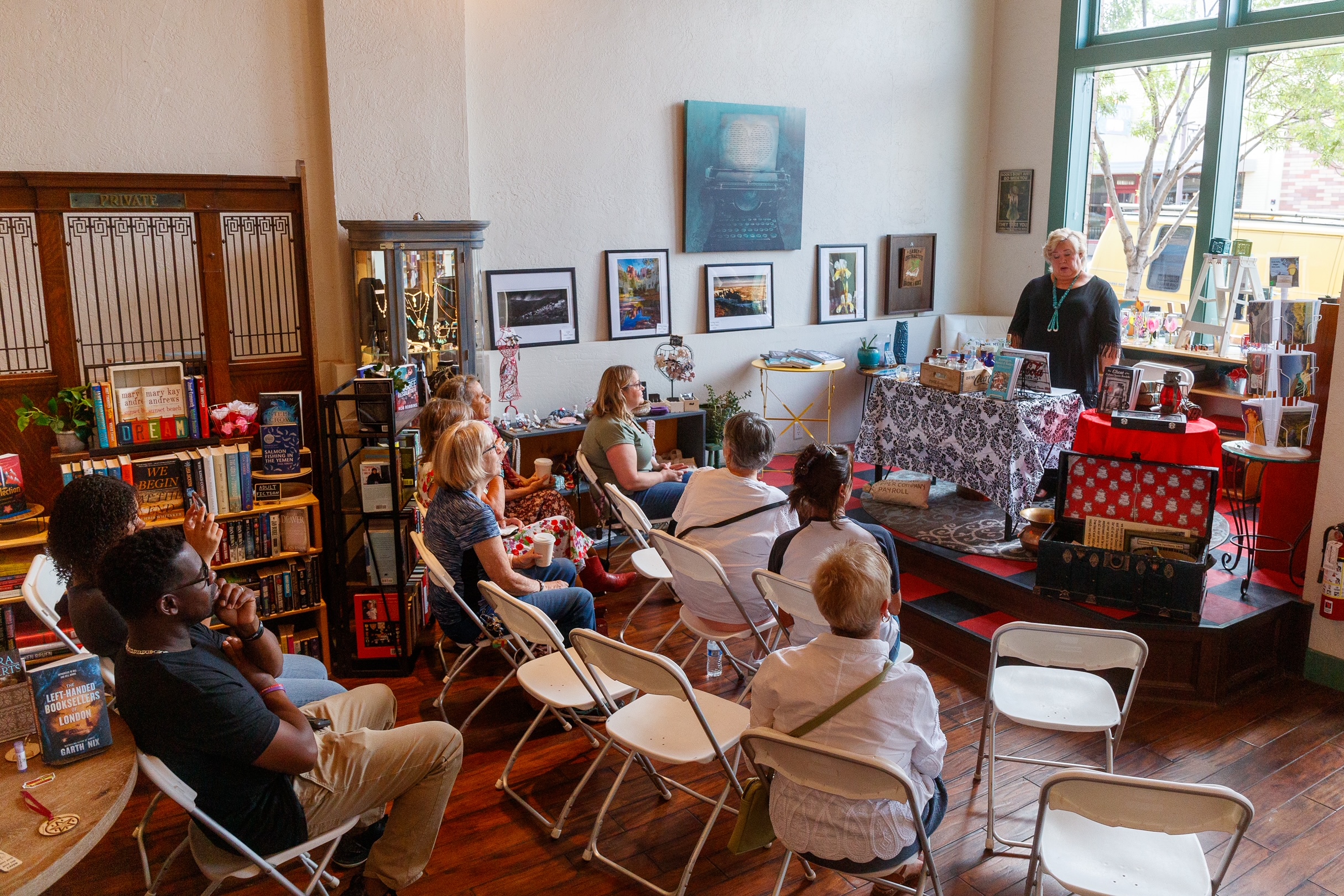 Local author Peggy Hicks really loves her job.
While reading her latest book, "Bootleggers, Bottles & Badges: The More Sinister Side of the So-called "Model Town" of Clarkdale Arizona," Hicks brought her stories to life using a trunk full of props : authentic antique bottles, newspaper clippings, a pistol and an old spittoon, which she literally threw from the stage, intentionally during her performance at Stardust Books on Saturday July 16th.
For about an hour, Hicks told stories — some true, some folk — about the history of Clarkdale and the colorful cast of characters who lived during the Prohibition era from around 1915 to 1930.
While wearing multiple hats, a veil, and even the classic disguise of nose and glasses, Hicks transformed, becoming the characters in the book, including town founder William A. Clark.
While wearing a top hat, Hicks exposed Clark's more "sinister" side, including a "dishonest" campaign to become a senator in 1899.
"It has been reported that he bribed his constituents with $1,000 bills, spending over $430,000 to become a senator from Montana," she said. "When Clark was confronted for his corruption, he said, 'I never bought a man that wasn't for sale. ""
According to senate.gov, "The Senate referred the matter to the Committee on Privileges and Elections, which promptly requested and received permission to conduct a full investigation into Clark's election. On April 23, 1900, after hearing extensive testimony from 96 witnesses, the committee issued a report concluding unanimously that William Clark was not entitled to his seat. The testimony detailed a dazzling list of kickbacks ranging from $240 to $100,000. In a high-pressure, well-organized scheme coordinated by Clark's son, Clark's agents had paid mortgages, bought ranches, paid debts, funded banks, and blatantly presented envelopes of cash to lawmakers.
State legislatures elected senators before the 17th Amendment, had them directly elected by voters in 1913.
Although he resigned before the Senate committee could reject him from his seat, Clark eventually became a senator anyway, after the acting governor of Montana nominated him to fill a vacant seat.
The following year he was elected to the Senate by "a newly elected Montana legislature – in which most of the winning candidates had received financial support from [Clark]."
"Clark was a dealer, a miner, and a millionaire at the age of 30," Hicks said. "In 1910 he began to purchase property at the base of Mingus Mountain, where he would build a foundry. Then he built a railroad along the Verde River, where he used the train to transport copper to market.
Hicks told stories of the city's booming business and the growth fueled by the mines, which emitted smoke and toxic fumes and killed vegetation in surrounding areas.
Hicks said that while most mining towns of the day grew haphazardly out of control, Clark's vision for the town of Clarkdale was different, and it became Arizona's first masterplan town.
Hicks' interest in history led her to write a total of four books, including "Bootleggers." His other three books include "Ghost Town Stories and Wicked Legends, Are Ghosts Real?" "The Story of Belgian Jennie: The Richest Woman in Arizona Territory" and "The Ghost of Cuban Queen Bordello: The Story of a 1920s Woman Jerome".
After operating his retail store in Jerome for 25 years, Hicks moved to Clarkdale.
"I lived in Clarkdale for 30 years," she said. "Clarkdale was supposed to be the model town so I didn't think there would be much history, until I started looking in the archives and doing some research, and after finding antique bottles of drugs, alcohol and more, I started wondering what they were used for and who sold them and it all kind of came together.
Hicks' bottle collection includes old liquor and milk bottles, "snake oil" drugs and others, which she says she acquired from various junkyards around town.
"I've been digging for bottles for years," she says. "I used to live in Colorado and go to Telluride and stuff like that. To me, it's amazing how they worked; they used molds, the first bottles were blown glass.
Throughout his reading, Hicks used the bottles as props to tell stories of old pharmacies, bootlegging operations and more.
"I've always loved history," she says. "My grandmother was a storyteller and I learned to love [storytelling] of her."
Hicks said she sells her books locally, at Jerome and the Verde Canyon Railroad in Clarkdale, but most of her sales are online through Amazon, where she has self-published her works.
---
---
---